Markt
Shawn Fain pushes UAW into political arena as strike hits second week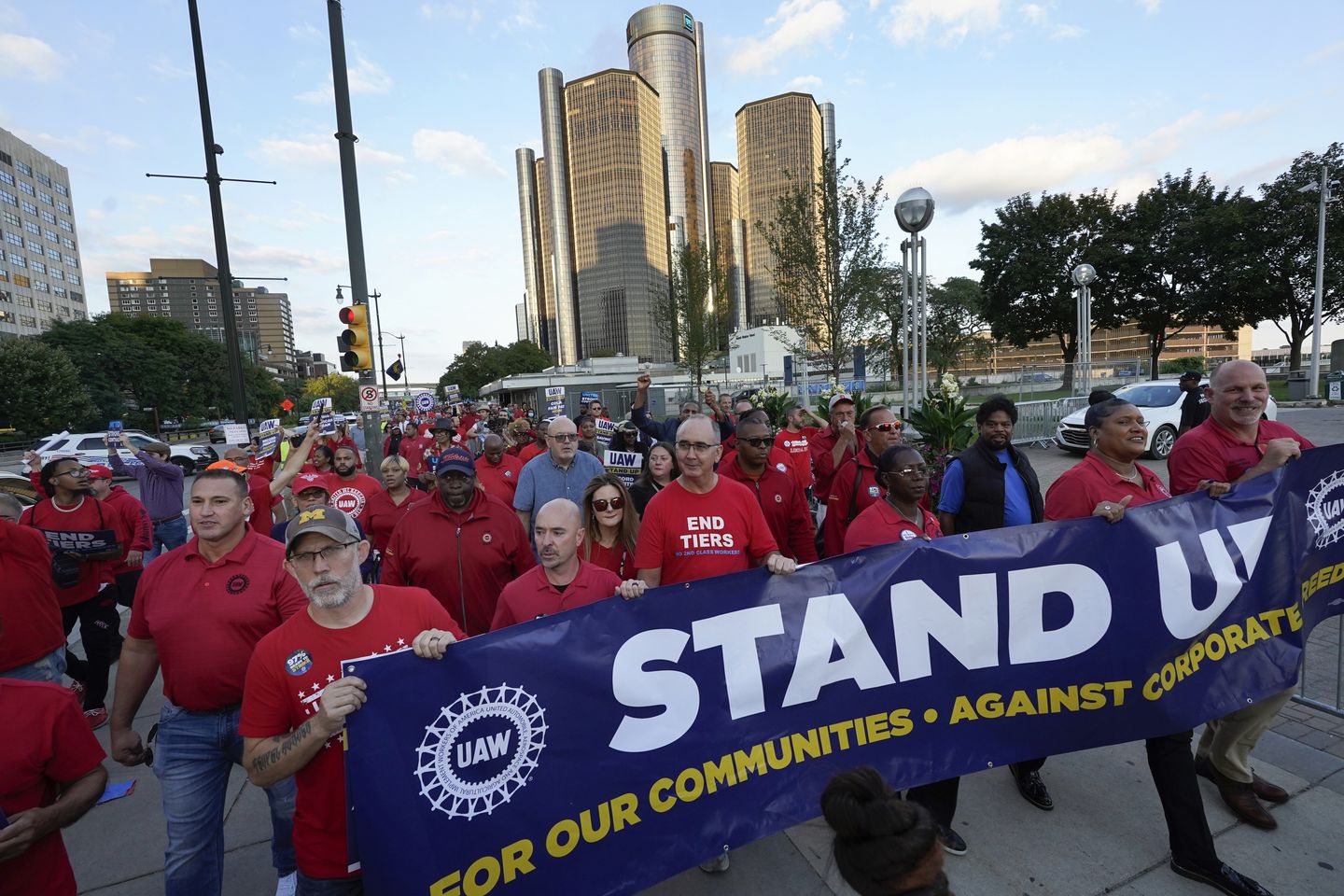 When Shawn Fain took over the United Auto Workers union in April, he vowed to reverse the group's waning influence by transforming it into a political powerhouse. In less than six months, he's fulfilled that pledge by organizing a historic strike and holding hostage his endorsement of President Biden.
Sworn into office after a contentious election, Mr. Fain became the first rank-and-file member to lead the UAW after rising through the ranks at a Stellantis plant in Kokomo, Indiana. He quickly went to work, pulling off the first strike in which UAW workers walked out simultaneously on all three major Detroit auto workers.
The strike has reverberated all the way to Washington, where politicians on both sides quickly took notice and scrambled to support UAW workers, albeit for different reasons. Democrats say the workers are victims of corporate greed, while Republicans claim workers were brushed aside because of the Biden administration's push toward electric vehicles.
---
---
Either way, politicians from Sen. Bernie Sanders, Vermont independent, to former President Trump are holding rallies with the workers. And that's exactly what Mr. Fain wants, labor experts say.
"Fain recognizes this is a political battle as much as it is a battle to change the balance of power between labor and capital," said Marick Masters, who teaches labor and political activity at Wayne State University in Detroit. "He understands what drives policymakers on both sides and goes after whatever he can do to pull that lever."
The auto workers' strike is about to enter its second week, with no signs it will stop soon. Mr. Fain has threatened to expand it to other plants unless he sees significant progress in contract negotiations by Friday.
"We're not going to keep waiting around forever while they drag this out … and we're not messing around," he said in a video message aimed at Ford, General Motors and Stellantis.
Stellantis is an Italian–American conglomerate that owns Fiat, Chrysler, Dodge, RAM, Jeep, Peugeot, Citroen and Alfa Romeo.
Workers at three Midwest facilities — a GM assembly plant in Wentzville, Missouri, a Stellantis factory in Toledo, Ohio, and a Ford plant in Wayne, Michigan — were the first to walk off the job.
For now, that means just under 13,000, or 9% of the UAW's 15,000 workers, are on strike.
Mr. Fain's union wants wage increases of 36% over four years, a 32-hour workweek with overtime for additional hours, restoration of retiree health benefits, profit sharing, the restoration of defined-benefit pensions for all workers and cost of living adjustments. He says the unions deserve a bigger share of automakers' record profits.
The three carmakers have raised their wage offers to 17.5% to 20% along with large one-time payments and more time off. But they've bristled at a 32-hour workweek and restoration of retirement benefits for new workers, which was cut when the automakers neared insolvency in 2007, saying it would make them less competitive with nonunion companies.
"Fain has done pretty well to this point, but he's not a vastly experienced labor leader on the national scene, and it takes a whole lot of skill and experience to maneuver your way through what he's engaged in," said Paul Clark, who teaches labor and employment relations at Pennsylvania State University.
Mr. Clark added that the UAW's future is at stake with this strike as the whole labor movement experiences a resurgence under the Biden administration.
"The ramifications go beyond the UAW. If this falls apart, it's going to take a lot of wind out of the sails of the labor movement, but if they can win it's going to be really significant," he said.
Political kingmaker was a role the UAW played in the 1960s and 1970s before it started to slide into irrelevance because of plant closings, global competition and the availability of low-wage workers overseas. That resulted in layoffs, contract concessions and diminished clout in Washington.
Compounding the UAW's problems was a corruption scandal in the past decade that resulted in prison terms for two former UAW presidents, who were convicted of embezzling millions of union funds for their personal use.
That resulted in a court-supervised election in March in which Mr. Fain won by a narrow margin as a reform candidate. Within days he promised increased political activity and a more militant approach to the bargaining table.
In his first remarks, Mr. Fain said the UAW would be more politically involved by offering grassroots campaign volunteers, endorsements and campaign contributions. He also warned candidates that once in office the UAW would hold them accountable.
Mr. Fain said the UAW supported candidates in the past that abandoned the union on bread-and-butter issues and that would no longer happen. UAW officials were dispatched to factories, union halls and elsewhere to talk with members about politics.
"This strike certainly has a political dimension to it, and it's clear that Fain has factored in the politics of where we are right now to give the UAW every advantage he can in terms of bargaining," said Mr. Clark.
As part of that strategy, Mr. Fain has withheld his endorsement of Mr. Biden for the 2024 election, saying it would depend on the outcome of the strike. Holding off an endorsement is a big blow to Mr. Biden, who has built his political brand on his full-throttle endorsement of unions. However, labor experts say some of this is political posturing by Mr. Fain and predict he will endorse the president.
"They don't have anyplace to go," Mr. Masters said. "If they don't endorse him and he gets reelected they will isolate themselves. The environmental movement is the dominant movement in the Democratic Party. It outweighs labor and plays a larger role in campaign financing."
Mr. Fain told CBS' "Face the Nation" this week that the UAW endorsement has to be earned and will be about actions, not words.
The president last week sent acting Labor Secretary Julie Su and senior aide Gene Sperling to Detroit to reach a contract for the UAW and car companies.
UAW officials say that's not enough, and some were taken aback by Mr. Biden's tepid support for striking workers last week in a speech from the White House. Former UAW President Bob King last week said the president "should have done a lot more already" to help striking workers.
Mr. Clark said he's "puzzled" by Mr. Biden's timid support for workers, given his unabashed support for unions.
"There is sort of a hesitation now when it's time to put some action behind your words," he said. "He's been surprisingly fearful to me, even if it was just some theater by coming to Detroit and marching with workers."
Mr. Clark added, "I don't know if he's keeping his powder dry for down the road when things get tougher, but I don't know what he has to lose by being more aggressive, given the positions he's taken on the labor movement."
However, Mr. Fain has made it clear he's no fan of Mr. Trump, the front-runner for the GOP presidential nomination in 2024. After the former president announced he will skip the second GOP presidential debate to come to Detroit and talk with striking workers, Mr. Fain denounced the plan.
"Every fiber of our union is being poured into fighting the billionaire class and an economy that enriches people like Donald Trump at the expense of workers," Fain said. "We can't keep electing billionaires and millionaires that don't have any understanding of what it is like to live paycheck to paycheck and struggle to get by and expecting them to solve the problems of the working class."
While UAW leaders are firmly entrenched with the Democratic Party, they know a lot of its members voted for Mr. Trump, cutting into the Democrats' edge with union voters.
Mr. Masters said the political divide between UAW leadership and its rank-and-file members is nothing new and doesn't expect it to be a factor in 2024.
While Mr. Fain has deftly navigated the political terrain to work support from both sides of the aisle, Mr. Masters said that support from lawmakers and the general public could wane if the strike drags on.
"This could begin to tilt against the autoworkers and against unions in general because most people don't get retiree health care, 32-hour workweeks or paid as much," he said. "Right now people appreciate that workers are fighting for them and wish them well, but things can go pretty sour if we are in for a very long strike."