Markt
Coal miners plead for stronger enforcement on black lung rule, fear retaliation for speaking up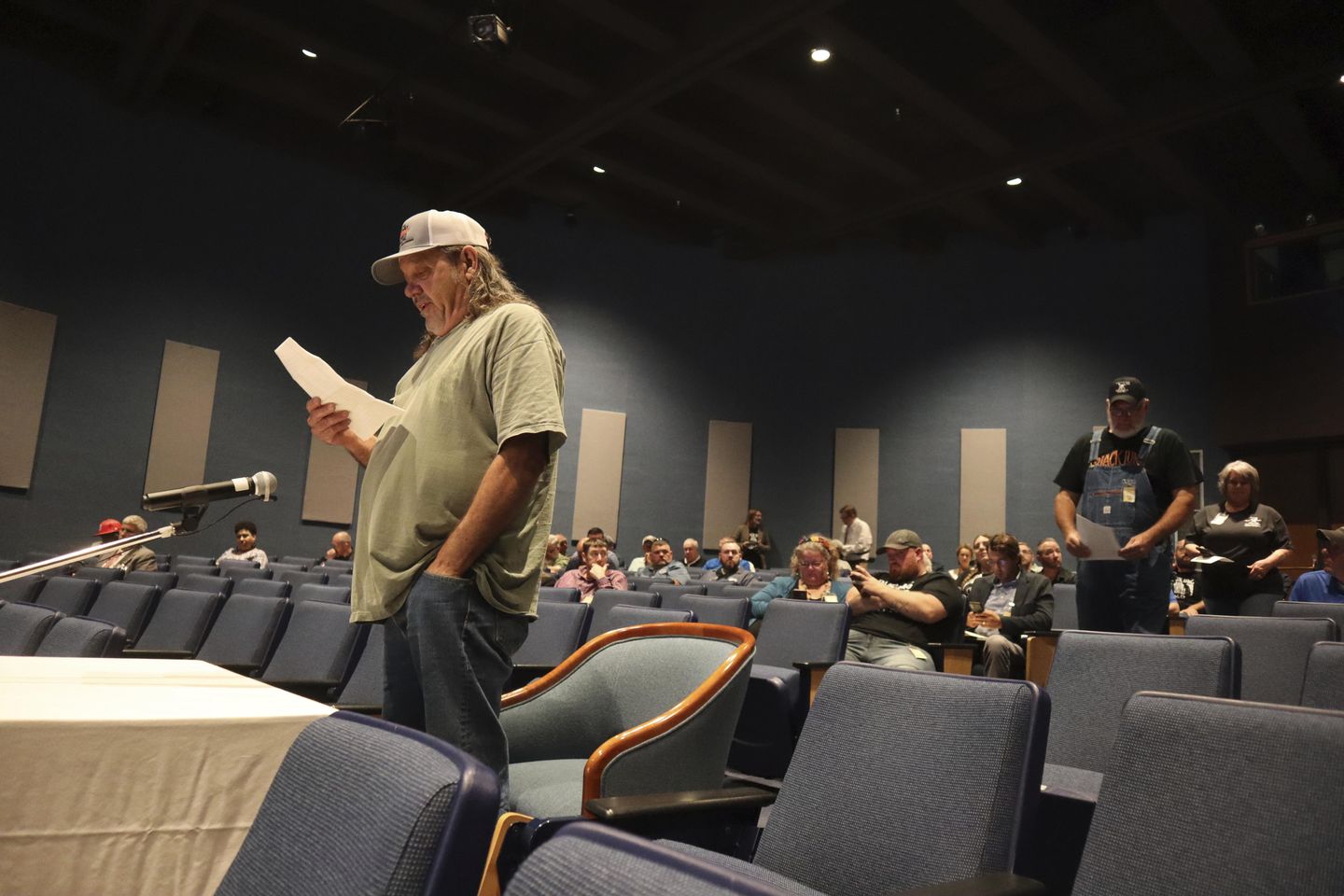 BEAVER, W.Va. — Laboring to breathe, West Virginia coal miner Terry Lilly told federal regulators Thursday he is appreciative the U.S. government is finally considering a proposal to limit the poisonous rock dust causing a severe resurgence of black lung.
But Lilly said the rule – a half-century in the making – will mean nothing if there aren't strict enforcement mechanisms in place to ensure companies comply.
"Cheating the samples is what we need to stop. If we can stop this, we can save some lives," said Lilly, asking officials to excuse him as a took a pause to catch his breath. He's now limited to 40% lung capacity, he said.
---
---
Lilly was one of the dozens of miners and advocates who came to the historic coal-mining county in West Virginia's southern coalfields to discuss a proposed rule from the federal Mine Safety and Health Administration that would cut the current limit for silica dust exposure in half.
During an emotional, hours-long hearing – the second of three before public comment on the proposal ends next month – miners spoke about their fear of retaliation for speaking up about unsafe dust levels and being asked by companies to help falsify samples. They said the government needs more inspectors to spend more time in the mines making sure existing rules are followed. Otherwise, new regulation won't make a meaningful difference, they said.
"When I speak about this, people look at me like I'm stupid," Lilly, who said miners don't always feel like the federal government takes their concerns seriously. "I've got 30 years of experience. I know the tricks and how they operate."
President of the National Black Lung Association Gary Hairston, who lives in neighboring Fayette County, said that too often, miners have to choose between their safety and their livelihood.
"We can fix this when we start making the coal mining companies responsible for what they're doing," said Hairston, becoming emotional speaking into the microphone wearing a "black lung kills" T-shirt. "I wish the coal miner – us – that we would come forward – but we're scared. In a non-union mine, you ain't got representation. We know they'll get rid of us."
Silicosis, commonly referred to as black lung, is an occupational pneumoconiosis caused by the inhalation of crystalline silica dust present in minerals like sandstone. The problem has only grown in recent years as miners dig through more layers of rock to get to less accessible coal, generating deadly silica dust in the process. Silica dust is 20 times more toxic than coal dust and causes severe forms of black lung disease even after a few years of exposure.
An estimated one in five tenured miners in Central Appalachia has black lung disease; one in 20 has the most disabling form of black lung.
The proposed federal rule, published in the Federal Register last month, cuts the permissible exposure limit for silica dust from 100 to 50 micrograms per cubic meter of air for an 8-hour shift in coal, metal and nonmetal mines such as sand and gravel.
The proposal is in line with exposure levels imposed by the Occupational Safety and Health Administration on construction and other non-mining industries. And it's the standard The Centers for Disease Control was recommending as far back as 1974.
Old wounds over mine safety run deep in West Virginia's southern coalfields, where thousands of miners 100 years ago marched to unionize in the Battle of Blair Mountain, the largest armed uprising in the United States since the Civil War.
In the 1940s and 1950s, roughly half of West Virginia workers were employed in heavy industries like coal, steel and glass, and the majority of those workers belonged to a union. By 2022, however, only 10% of West Virginia workers were represented by unions, according to the U.S. Department of Labor.
Hairston said that with the waning of union representation, miners have lost advocates they could rely on ensure regulations are being enforced.
Attorney Sam Petsonk, who has represented coal miners who were diagnosed with black lung after companies violated safety violations, said a silica rule is long overdue. But he is concerned that the rule requires no routine sampling and contains no specific monetary penalties for exceeding silica dust limits.
The rule also allows miners to work in higher-than-allowable levels of dust on a temporary basis if they wear respirators and companies are working on bringing exposure down to safer levels. Petsonk said respirators are ineffective while performing heavy labor in hot, confined spaces, and that inspectors are not present enough to ensure they don't become a permanent solution.
The National Mining Association has said it would like to see respiratory protection equipment be used as a method of compliance with the rule.
The organization, which represents operators, said in a statement last month that ventilation controls, strict adherence to mine ventilation control plans, increased operator and miner safety awareness, and a 2014 rule regulating coal dust have "all contributed to exponentially lower dust levels inside the mine."
Mine, Safety and Health Administration Deputy Secretary Patricia Silvey said if inspectors see evidence of overexposure, operators will have to take immediate "corrective action," which could mean implementing engineering controls. The government makes a record of the infraction and ensures retesting to make sure the action is working, she said.
Willie Dodson, Central Appalachian field coordinator for advocacy group Appalachian Voices, said the nation has a current epidemic of black lung now that is "built in part on the current enforcement mechanisms and deficiencies."
"If MSHA gets this wrong, we will look back on this process as its own sort of tragedy – a moment when we came close to doing right by coal miners, but ultimately failed them," he said.
United Mine Workers of America Director of Occupational Health and Safety Josh Roberts asked regulators to look at the proposed rule and ask this: "Does this section open the door for cheating or gaming the system?"
"Everybody wants the rule to be the best that it can be this go-round because you might not get another bite at the apple for a long time," he said.
Copyright © 2023 The Washington Times, LLC.